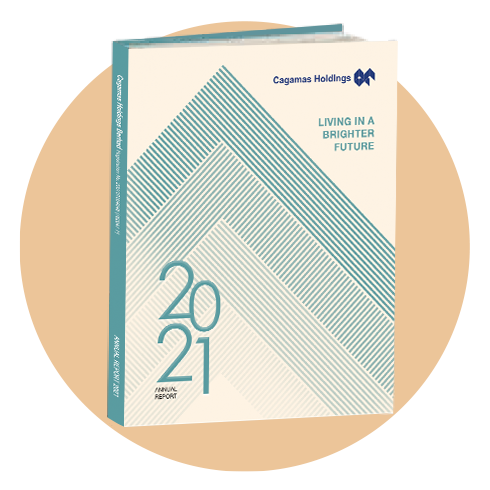 LIVING IN

A BRIGHTER FUTURE
The Cagamas Group has grown to be a pillar of strength as we help Malaysians gain access to affordable and competitive home financing.
Staying focused and resilient through the years, we have evolved and broadened to play a more pro-active role through innovative funding solutions as well as by supporting the Government's affordable home ownership programmes.
As we continue our journey, we remain as committed as ever to forging a better future for all. Thanks to all the past efforts that have played a contributing factor in our success, today is better than yesterday. As we continue to enjoy the fruits of our labour, we will turn the promise of a brighter future into a reality.

Message

from the Chairman
Dear Shareholders,The Cagamas Group of Companies ("The Group") business activities remained commendable in 2021 amid a challenging business environment. The Board of Directors undertook a strategic review of its business direction so that it is well-positioned to continue delivering value to our stakeholders and contributing to the development of the industry.
Dato' Bakarudin Ishak
Chairman
Group

Financial Highlights


for the financial year ended 31 December 2021
Gross Operating Revenue
RM

1,707.7

Million
Profit Before Tax & Zakat
RM

427.9

Million
Total Assets
RM

44,124.6

Million
Shareholders' Funds
RM

6,544.9

Million
Net Tangible Assets
RM

43.5
Earnings Per Share
211.7

SEN
After-Tax Return on Average Shareholder's Funds
4.9

%
After-Tax Return on Average Total Assets
0.8

%
Business

Review
Cagamas Holdings Berhad is a holding company incorporated in 2007. Its subsidiaries are Cagamas Berhad ("Cagamas"), Cagamas SRP Berhad ("CSRP"), Cagamas MBS Berhad, Cagamas SME Berhad, BNM Sukuk Berhad and Cagamas MGP Berhad (collectively "the Group"). Its wholly-owned subsidiary, Cagamas, is the main operating entity of the Group and plays a strategic role to promote the broader spread of home ownership and the development of the secondary mortgage market and Islamic finance.